Excerpt from
Profiles in Change:
NAMES, NOTES AND QUOTES FOR ALASKAN WOMEN
1983, Alaska Commission on the Status of Women
Return to Index
Annie Brower: 'sharing is important'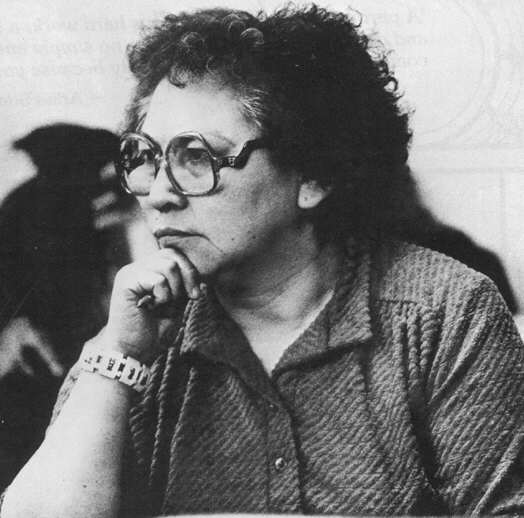 Annie Brower takes politics and education seriously — because she sees success in both as crucial to the future of her people, and because she has seen too many instances where achievements in them are only illusory.
She was born on Barter Island in 1925 and reared from age 4 in Barrow. She never finished high school herself, but she saw the effects of a school system that moved students from grade to grade without actual educational achievement. So she began fighting the practice of "social promotion" and wound up battling multi-national oil companies and developers in the arctic.
Her son, Eugene Brower, is mayor of Barrow.
* * *
I am not afraid to stand up and speak my mind. When they (oil companies) come in here and want to develop, I say let's have some planning and look at the effects of development.
How have you addressed planning and development in Barrow?
Well, I have been involved with the planning commission. We try and make sure the developers and oil companies comply with the regulations. They have to inform us of what they are planning to do in our region because it is our Native land and we claim that area, and we can't just be trampled all over. We put stipulations on permits. Mostly, we try to get them to comply to the environmental issues and the situation.
Are you against development?
I am against the way things are handled now. I often think the developers don't think about our way of living, with subsistence and all. We may buy food from the store but when we run out of money we hunt. Because I care about what happens here, I am involved with the planning. I like standing up to the oil companies and saying, 'Hey, take it easy.'
Sometimes I tell the oil companies at meetings that I don't know what they are after. Our land is full of oil rigs and service stations and there are lease sales scheduled for the ocean for years to come and that really scares me. We depend on the ocean for our food, we depend on the whales for subsistence. One time at a meeting, I said that I thought one way of getting our message across would be to go to Washington D.C. and throw gallons of oil on the White House lawn. Maybe that would get people's attention.
I know that you are also very involved with the educational system, can you elaborate?
I was born on Barter Island and grew up in Barrow. I did not learn English until later on and never finished my schooling. This probably had something to do with my interest. Mostly it came from working around kids that were supposed to be educated. I could see that they weren't.
One day I was working with a high school graduate who couldn't read the scales. I was appalled and began observing the schools and the students. I realized that there was a lot of social promotion going on; promoting students to the next grade even if they were not passing the previous grades. I think that ruined a lot of the kids. With time my eyes were finally opened, and I felt that it was too late, but we did try and make some improvements.
We have a long way to go. My own personal goal is to see a better education system for our children. First we lost the kids to schools far away because we didn't have ones here. That was terrible. The first two years you could still recognize your children. After that, forget it; they were someone else's.
Today, I teach the Inupiat language and culture to the kids. The school district tried to give me a classroom certificate and I objected. I said, all these years I have been fighting social promotion and I will not take an unearned teacher's certificate, So, I decided to go earn it.
I went to college with my daughter one time in Fairbanks to earn credentials. 'Imagine that,' I told her, 'I never finished grade school and I never went to high school but I am going to college.' We lost a family member so I had to return to Barrow.
What is your view on young women and the effects of change on them?
You know I have seen all this transition from way back. The effects are not so good for the young girls.
If young women are going to be involved in politics, I think they should really study hard the law. If you want to accomplish things, you have to know law. Without an understanding of the legal system, you are at a real disadvantage.
If you are going to be a mother, as a young woman, you must start by raising your children with love. You must show them that you care about them, and want the very best for them.
Today, you see the kids are not disciplined; we must restore this. Teach them to be disciplined I don't believe in beating the children, either; that's not what I am talking about. Talk to them sternly, let them know why you are upset.
You know, it used to be that the most honorable thing for a woman was to be the wife of a whaling captain. It is tradition that if your crew catches a whale, the whaling captain's wife had to go out on the ice. Everyone works together, comes back and celebrates together. Sharing is a big part of the catch. You know, my husband and I don't agree on everything, but we agree that sharing is important. Some women are allowed to go hunt whales. When I was a little girl, my father taught me how to hunt. But my husband didn't want me to do this.
My grandfather was quite a whaler. He never missed catching a whale every spring and helped to feed the town of Barrow. He was a good hunter, too; he shared everything he got. Eskimos believe in sharing; people that don't like to share have a hard time here. Especially when you are subsistence living, the people who share become very well known and respected and the people who don't want to share, they have nothing to do with them.
There are women whalers. My grandma told me that I was named after an aunt who was a good whaler. And, before I married my husband, Harry Brower, Sr., told me that I came from a good whaling family. My grandma told me that because Brower, Jr., married me and my ancestors were good whalers, that I bring good luck.
I learned about sharing from my mother and my grandmother. I am always concerned with people who need things. When somebody needs something, I just give it. My kids are like that, too, you know. I am proud of that. I love sharing food with the senior citizens. We give fresh meat and go and being fish and meat to people who can't get it for themselves.
You know I have four girls, five boys and 22 grandchildren; that is a lot of sharing!