Excerpt from
Profiles in Change:
NAMES, NOTES AND QUOTES FOR ALASKAN WOMEN
1983, Alaska Commission on the Status of Women
Return to Index
'a sense of empowerment'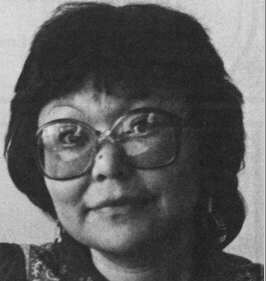 Beneath Alice Wardlow's shy smile is a woman who talks knowingly and forcefully about unequal power and violence in human relationships.
Alice Wardlow was born in 1945 in Bethel and lives there today. She works with domestic violence, as outreach coordinator for the Tundra Women's Coalition, and education, as a member of the school advisory board.
* * *
For years, I sat back and passively listened. Today I like to pass on my life experiences.
I got involved with violence issues because my mother was a battered woman for 30 years. She died as a result of the situation.
I went through it myself for a couple of years and got out of the situation. When I returned to Bethel, I volunteered for the Tundra Women's Coalition for three years before I became the outreach coordinator.
My main emphasis is to encourage women in relationships to gain more control in their lives. Violence is really an unequal relationship; it is power over someone or something. In order to transform that situation, women must regain a sense of empowerment in their lives.
There is a lot of talk about returning to traditional values and respect for the elders.
I think both young women and young men should learn basic survival skills and that includes learning how to cook and both partners doing the task of 'housewife.' I have the greatest respect for the elders. And their system worked years ago. They worked as partners. But times have changed and I think we need to learn to do the same with it. The concept of partnership is the same, it just means that both men and women learn how to share in the household chores today.