Iñupiaq Phrasebook
Go straight to Phrasebook -- OR -- Continue through introduction



The Ieupiaq Phrasebook is a series of interactive screens where you can listen to an Ieupiaq speaker pronounce the words and phrases and click to see the English translation.

Many individuals have contributed to the development of the Ieupiaq phrasebook to make this work possible. Janet Barr initially developed the phrasebook during the early 1980's while teaching in the Northwest Arctic Borough School District (NWABSD) with Paul Ongtooguk. The format of the phrasebook stems from a foreign language book that Janet used to design the Ieupiaq phrases. This initial phrasebook was never used until Paul pulled it off his bookshelf.

An important point is that the phrasebook is a collaboration between many people, hence the mix of dialects from the Kobuk and coastal areas. Some changes have been made to the original version developed by Janet Barr.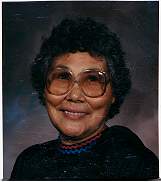 Hannah Gallahorn
Hannah Gallahorn completed sentences which were originally listed as single words in the text, and made appropriate changes to the postbases. We feel that using complete sentences is a much better format for those wanting to speak conversational Ieupiaq. We hope users will help complete the blank categories for Ieupiaq names. Mrs. Gallahorn recorded audio phrases in Ieupiaq for this web site.
Note on Fonts: In order to reproduce the Ieupiaq characters properly on your computer, download the Ieupiaq font and install it on your computer. Please choose the set of instructions for either the Mac or PC font. If properly installed, the Inupiaq text for the phrase below will appear the same on your computer screen. Are the two phrases below the same?
| | |
| --- | --- |
| Picture of an Ieupiaq Phrase: | |
| The Typed Phrase: | Uvafa tikiqattaabivut ixivut. |
If the two phrases in the table above do not appear the same, then you must download and install the Iñupiaq font on your computer to view the Iñupiaq materials on the site properly.

The Ieupiaq font available from this site is a free, public domain font, created as part of this project. It can be used for word processing and web pages. Anyone wanting to see word processing files or web pages created with this font must have this font installed on their computer. Please see Using the Ieupiaq font for Word Processing for more information.


We encourage anyone with comments and suggestions regarding the Ieupiaq Phrasebook to send e-mail to ssharp@uaa.alaska.edu at UAA-ISER. We also welcome the contribution of digital images/photographs for illustrations. Please send as e-mail attachment to Suzanne Sharp with a brief message stating which phrase(s) you think the image(s) belongs with.
---
Language Index
Iñupiat Dictionary
Iñupiaq Spellchecker
Iñupiaq Font
Alaskool Home