What's New Archive
April 17, 2000
Between Worlds: A Juneau Empire Special Report (ANCSA)
An Alaskan Teacher, Elizabeth L. von Beck, © 1997. "The U.S. Bureau of Education employed Evelyn and Archie Payne as teachers of the Eskimo." This manuscript was compiled from letters, character sketches and poems written during 1925-1948 when Evelyn and Archie Payne lived and worked in several Alaska coastal communtities.
March 16, 2000
Interethnic Communication,
How to recognize negative stereotypes and improve communication between ethnic groups, Ron Scollon and Suzanne B.K. Scollon, Alaska Native Language Center, University of Alaska Fairbanks, 1980
Unbiased Teaching About American Indians and Alaska Natives in Elementary Schools, ERIC Digest EDO-RC-90-8, June 1990
Articles and other material by and about Roy Peratrovich and Elizabeth Peratrovich
DENALI PARK OFFICIALS CONSIDER DOYON LAND SWAP, Anchorage Daily News, February 7, 2000, p. B2.
February 25, 2000
An Alaska Solution for Schools, Essay Covering School Funding Issues by Paul Ongtooguk.
Ice Fishing for Tomcods and Smelt, Kotzebue Sound, 1978.
February 14, 2000
FUNDING ELUDES NEEDIEST SCHOOLS, Anchorage Daily News, Sunday, October 03, 1999. At Chevak School in Western Alaska, student desks sit so close together that if one child gets up to go to the bathroom, an entire row must stand and move. Three hundred students are crammed inside an old wood-frame building that was designed for half as many kids....[read article]
Education plan taps Bush aides, Controversial idea aims to cut teacher turnover , Anchorage Daily News, Monday, December 20, 1999. Some educators hope to overcome one of the biggest obstacles to improving schools in Bush Alaska - rapid turnover of teachers - by making it easier for mostly Native teacher aides to become teachers, perhaps without earning college degrees.... [read article]
February 9, 2000
A SENSE OF RIGHTNESS, Kitka marks 10 years atop AFN, but she's still an enigma to many, Anchorage Daily News, Page A1, Sunday, October 17, 1999
January 26, 2000
AFN IMPLEMENTATION STUDY
, Proposals to the United States Congress to implement recommendations of the Alaska Natives Commission pursuant to P.L. 104-270, Alaska Federation Of Natives, December 1999
January 25, 2000
Index of AudioVisual Resources on ww.Alaskool.org (includes subsistence videos, Inupiaq language, and other materials...)
January 19, 2000
For Teachers: Excerpts from Teaching with Documents: Using Primary Sources from the National Archives, National Archives and Records Administration and National Council for the Social Studies, Washington, D.C., 1989
January 13, 2000
January 7, 2000
One more way to navigate through the Alaskool web site: list of major documents included in this site as of September 23, 1999

Chemawa Indian School Alumni Class Lists for 1885 through 1938
January 5, 2000
Excerpts from Profiles in Change: NAMES, NOTES AND QUOTES FOR ALASKAN WOMEN, Alaska Commission on the Status of Women, 1983
December 29, 1999
December 28, 1999
December 23, 1999
Alaska Regional Profiles, Northwest Region

Links to Other Sites:

Inupiaq [Inupiat] - Alaska Native Cultural Profile [Ethnic Medicine Guide Harborview Medical Center, University of Washington]

Alaska Department of Fish and Game, Alaska Wildlife Notebook Series
December 13, 1999
Major Federal and State Laws and Court Decisions Affecting Subsistence, 1971-1991
December 9, 1999
The Howard Luke Academy, Fairbanks
December 7, 1999
Alaska Native Curriculum Studies and Teacher Development Project, Institute of Social and Economic Research, Announces the Availability of CURRICULUM FELLOWSHIPS
Links to Other Web Sites:
December 2, 1999
Group Wants Only 'Genuine' Natives, Paul Ongtooguk, Tundra Times (1990). Slide show and presentation on ANWR - the Arctic National Wildlife Refuge, Alaska and oil development, environmental concerns, the view of Alaska Natives.
November 11, 1999
Excerpts from Our Northern Domain: Alaska Picturesque, Historic, and Commercial, Dana Estes & Company: Boston, 1910 (Includes The Discovery of Alaska, The Founding of Sitka, The Magic Wand of Gold, Juneau and Skagway, the Mighty Yukon, and Reindeer and Eskimos.)
TEACHING WITH HISTORIC PLACES:A lesson plan produced for the National Park Service and the National Trust for Historic Preservation and St. George Tanaq Corporation, The Seal Islands: Fur Seal Rookeries National Historic Landmark, the Pribilof Islands, Focus: St. George Island, Patricia H. Partnow, Ph.D.
Alaska — 1950, A snapshot by the United States, Department of the Interior, published 1951, excerpts from Mid-Century Alaska United States Department of the Interior, Office of Territories, Washington: 1951.
Maniilaq is written in Inupiaq and English.

Maniilaq is the name of a man that is held in very high regard by the older Iñupiat Eskimos of the Northwest Arctic. He was more commonly known as Maniilauraq, and to some of the elders in the area, he was an Eskimo prophet. They speak of him with reverence and admiration. Many believe him and in the fulfillment of his prophecies in this day and age.

This book presents the information which the Center has on Maniilaq transcribed and translated exactly as the elders have given it. There has been no attempt made to edit any of the discussions as many of the contributors have passed away. The materials are presented here for you, the reader, to read and reach your own conclusions about Maniilaq. You will find the accounts to be repetitious, but as you read each variant of Maniilaq's activities and teachings, you will acquire new information which will add to your knowledge of the whole subject.
October 12, 1999
Links to Other Resources:
October 11, 1999
What to Expect Your First Year of Teaching, Amy DePaul, U.S. Department of Education, Office of Educational Research and Improvement, September 1998
ALASKA NATIVE CLAIMS SETTLEMENT ACT OF 1971, (PUBLIC LAW 92-203): HISTORY AND ANALYSIS TOGETHER WITH SUBSEQUENT AMENDMENTS, Richard S. Jones, Analyst in American National Government
Government Division, Report No. 81-127 GOV, June 1, 1981
COMMISSION ON RURAL GOVERNANCE & EMPOWERMENT: Find out about Alaska's COMMISSION ON RURAL GOVERNANCE & EMPOWERMENT and read Rural Governance Commission Final Report - June 30, 1999
Kiana Place Names Map There are many layers to discovering and understanding Native place names and the land. The Katyaak, Inupiat Placenames in the Kiana Area map was prepared in 1994 by NANA Regional Corporation with funding provided by the National Park Service and NANA...
Juggling in Alaska as an historic native American pastime, Jim Kerr, Institute of Social and Economic Research, Anchorage, Alaska Juggler's World, Vol 36, No 1, March 1984
October 5, 1999
GUIDEBOOK for Integrating Cup'ik Culture and Curriculum
October 1, 1999
September 28, 1999
September 22, 1999
August 30, 1999
The Tyonek Story, Robert G. Knox, Alaska Construction and Oil Report, Vol. 9, No. 7, July 1968. The Board of Governors Room of the New York Stock Exchange is the epitome of Money spelled with a capital M. Located on one of the upper floors of the exchange building far, far away from the noise and confusion of the exchange floor, the room is large and spacious with extremely high ceilings. It is decorated tastefully in the colors you might expect—green and gold. There is a good deal of highly polished mahogany scattered about and your feet sink into deep, soft carpeting.....
Village Journey: The Report of the Alaska Native Review Commission by Thomas R. Berger, 1985, Inuit Circumpolar Conference.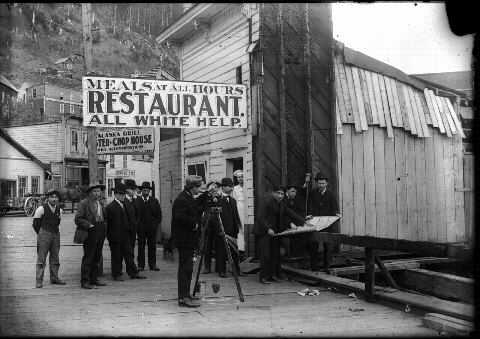 Alaska State Library, Winter and Pond Collection, PCA 87-1050. NOT TO BE REPRODUCED WITHOUT PERMISSION FROM THE ALASKA STATE LIBRARY.
Alaska Natives were legally prevented from establishing mining claims under the terms of the mining act. As this photograph indicates, there were other barriers preventing or discouraging Alaska Natives from participating in the establishment of the social and economic structures of modern Alaska. Link to Native Government Page
August 27, 1999
The Alaska Native Claims Settlement Act: Conflict and Controversy, Monica E. Thomas, Polar Record, 23(142): 27-36 (1986)
The Alaska Native Claims Settlement Act: An Update, Monica E. Thomas, Polar Record, 24(151): 328-329 (1988)
ALASKA: POLITICIANS AND NATIVES, MONEY AND OIL, Once upon a time there was a frontier, Lewis Lapham, Published in Harper's Magazine, May 1970
Chapter 7: Incompatible Goals in Unconventional Organizations: The Politics of Alaska Native Corporations, Gary C. Anders, Associate Professor, University of Alaska, Juneau and Kathleen Anders, Visiting Instructor, University of Alaska, Juneau, excerpted from Developing America's Northern Frontier, Theodore Lane, ed., University Press of America, 1987

Chapter 4: The Labor Force Status of Alaska's Native Population, Theodore Lane, Adjunct Professor, ISER
and Partner, Thomas/Lane & Associates and Cheryl K. Thomas, President, Thomas/Lane & Associates, excerpted from Developing America's Northern Frontier, Theodore Lane, ed., University Press of America, 1987

The Eskimo and the Land: Ownership and Utilization, Dorothy Jean Ray, paper presented at the Thirteenth Alaskan Science Conference, August 25, 1962, Juneau, Alaska.

THE NATIVE BROTHERHOODS: MODERN INTERTRIBAL ORGANIZATIONS ON THE NORTHWEST COAST, By Philip Drucker, Smithsonian Institution Bureau Of American Ethnology, Bulletin 168, United States Government Printing Office, Washington: 1958

Reindeer Herding, Raymond Brown, Sr., Utuqqanaat Tusraayukaanich, Vol. 12, May/June 1999, p.1.
August 26, 1999
Look back at the hot issues surrounding Land Claims and ANCSA in the 1960's, '70's and '80's. Articles are reproduced from the Fairbanks Daily News-Miner, The Anchorage Daily Times, the Anchorage Daily News, the Daily Alaska Empire/Southeast Alaska Empire, and The Tundra Times. List of Articles
August 25, 1999
Articles from "The Social Studies"
Delving into the Past--County Court Records and the Pursuit of History, Loren Schweninger, November/December 1998
Reconstruction Historiography: A Source of Teaching Ideas, Robert P. Green, Jr., July/August 1991
One Use of Sources in the Teaching of History, Fred Morrow Fling, September/October 1994
Using Visual Materials as Historical Sources, A Model for Studying State and Local History, Randall G. Felton and Rodney F. Allen, March/April 1990
August 17, 1999
July 9, 1999
Articles from THEATA '87 VOLUME 12 TLINGIT HAIDA ESKIMO ATHABASKAN TSIMSHIAN ALEUT - "High School Graduates" by Aggie Frankson, "The Big Change" by Mae Pitka, "Rural Student Services" by Tim Holmberg, "NANA Dorms" by Magdeline Booth, "Daily Schedules" by Mae Pitka, "Traditional Storytelling" by Charlene Fisher, "Healing" by Phyllis Norton
1991 Balancing Individual and Group Rights after ANCSA by Bart K. Garber, published in Alaska Native News/January 1985
WE OWN THE LAND, Statement By William L. Paul, Sr., to the AFN Board of Directors Alaska Federation of Natives' Convention Fairbanks, Alaska, October, 1971
"The International Legal Status of Native Alaska," by Russel Lawrence Barsh, published in Alaska Native News (July 1984), 4. 2, p. 35.
"Why the Arctic Slope Inupiat Said NO to ANCSA," letter to the President of the United States, December 18, 1971 from Joseph Upicksoun, President, Arctic Slope Native Association and Charles Edwardsen, Jr., Executive Director, Arctic Slope Native Association, Alaska Native News (September 1984) v.2, p. 16.
"One Day in the Life of a Native Chief Executive," Part II, by Byron I. Mallot, Alaska Native News (October 1985) v.2, p. 22.
"Alaska's natives are bringing off the biggest corporate takeover," Michael Parfit, Smithsonian (August 1981), pp. 30-39.
Traditional Eskimo Life in the Latter Twentieth Century, Chapter 6, Reminiscences of Kuuvafmiut Villagers, Douglas B. Anderson, Wanni W. Anderson, Ray Bane, Richard K. Nelson, Nita Sheldon Towarak
July 8, 1999
New Links on Our Language Page including
June 30, 1999
June 28, 1999
The Tundra Times, Selected Articles Referencing ANCSA and Land Claims, 1961-1971. Used with permission of the publisher for educational purposes only.
"Alaska: Share the Oil," Daniel Henninger, New Republic, June 28, 1969, Vol. 160, pp. 15-17. Last year a lone Atlantic Richfield oil rig drilled into a sea of oil beneath Alaska's Arctic ice. The find is worth billions and has the oil industry aflutter. Humble Oil announced it would spend $39 million to open the legendary Northwest Passage linking Alaska to the East Coast; British Petroleum, with holdings on Alaska's North Slope...
"Divvying Up Alaska: Native Claims Bill," Stephen Brent, New Republic, December 13, 1969, Vol. 161, No. 24, pp. 11-13. Anchorage. Anchorage was still waiting for its first real snow November 25, though the thermometer never climbed higher than five above zero. Inside a hotel conference room, about 20 Alaska business leaders—clearly frustrated and almost scared—huddled together, away from the cold and the 3 p.m. gloom.
The source of frustration was 4500 miles east by southeast, in Washington, D.C., where the Senate Interior and Insular Affairs committee was working to keep a pledge to Alaska's 55,000 Eskimo, Indian, and Aleut citizens...
June 24, 1999
June 22, 1999
NATIVE LAND CLAIMS, ALASKA REVIEW OF BUSINESS AND ECONOMIC CONDITIONS, Vol. IV, No. 6, November 1967, Published by the Institute of Social, Economic and Government Research University of Alaska
How to Exploit and Destroy a People: The Case of the Alaskan Native, Civil Rights Digest, Washington, D.C.: U.S. Commission Civil Rights, Vol. 2, No. 3 (Summer 1969), pp. 6-13.

SHELDON JACKSON IN HISTORICAL PERSPECTIVE: ALASKA NATIVE SCHOOLS AND MISSION CONTRACTS, 1885-1894, Stephen W. Haycox, The Pacific Historian, Volume XXVIII, Number 1, pages 18-28.
June 17, 1999
June 15, 1999
Statements from: Alaska Native Land Claims Part II, "Hearings before the Subcommittee on Indian Affairs of the Committee on Interior and Insular Affairs, House of Representatives, Ninety-first Congress First Session on H.R. 13142, H.R. 10193, and H.R. 14212, Bills to Provide for the Settlement of Certain Land Claims of Alaska Natives, and for Other Purposes.
June 11, 1999
Life and Travel in "UNALAKLEET", Written by: Patricia H. Partnow
June 8, 1999
June 4, 1999
May 24, 1999
May 21, 1999
April 23, 1999
April 22, 1999
April 20, 1999
April 2, 1999
April 1, 1999
March 30, 1999
March 22, 1999
March 12, 1999
March 4, 1999
March 3, 1999
"ANCSA-RELATED SIDE EFFECTS," Kornelia Grabinska, Tanana Chiefs Conference, Inc., March 1983, From Tanana Chiefs Conference, Inc., Interior Region Post ANCSA, Impact Analysis.
March 2, 1999
March 1, 1999
February 22, 1999
Taken to Extremes: Education in the Far North, Frank Darnell and Anton Hoëm, Chapter 4: Historical Development of Schooling, 1996
Audience Socialization of the Inupiat Eskimo: An Ethnographic Study in Cultural Continuity, "Chapter IV, The Professionals: Portraits with Divergent Voices," MAK Mitchell, 1989
Native Claims in Alaska: A Twenty-year Review, Steven McNabb, Etudes/Inuit/Studies, 1992
Feburary 19, 1999
February 8, 1999
February 1, 1999
World Wide Web Links
January 20, 1999
January 11, 1999
January 2, 1999
December 28, 1998
December 15, 1998
December 14, 1998
Native Education Speech by Willie Hensley at Bilingual Conference, Anchorage, Alaska, February, 1981

Law and Alaska Native Education, The Influence of Federal and State Legislation upon Education of Rural Alaska Natives, David H. Getches

ALASKA'S "MOLLY HOOTCH CASE":HIGH SCHOOLS AND THE VILLAGE VOICE, Stephen E. Cotton, Office of Inspector General, Boston, Massachusetts

The Nelson Act of 1905—An Act to provide for the construction and maintenance of roads, the establishment and maintenance of schools, and the care and support of insane persons in the district of Alaska, and for other purposes.

Molly Hootch, et al., Plaintiffs, vs. Alaska State Operated School System, et al., Defendants, the lawsuit challenging the separate and unequal system of education in Alaska.
ANNA TOBELUK, et al., Plaintiffs, vs. MARSHALL LIND, et al., Defendants, the settlement of the Molly Hootch lawsuit.